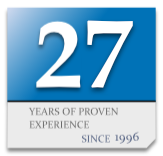 Through oil tank removal, environmental consulting services, groundwater and soil remediation, oil tank cleanup, and other professional services, Firstech Environmental has assisted clients in recovering millions of dollars while achieving/maintaining compliance with New Jerseys various environmental regulations. Request a quote for a responsive solution to your environmental challenge or call us at 800-997-2820 to find out what we can do for you.
State Programs & Licenses
At Firstech Environmental, our oil tank removal services are designed to clear your property of oil tanks that may be a threat to your property value. The only 100% effective solution to ascertain the integrity of an underground oil storage tank is complete oil tank removal. With the potentially high cost of contaminated soil and groundwater cleanup, it is vitally important to remove any oil tank within your property as soon as possible. Some of the advantages that residential oil tank removal provides includes: 
Increases property value
Protects the environment
Potentially safeguards against expensive soil and water remediation processes 
Firstech is a NJDEP UST Certified Contractor with over 25 years of residential oil tank removal experience. We have the knowledge and experience to provide oil tank removal services for any job, no matter how complex.
Firstech Environmental has properly decommissioned and provided residential oil tank removal of thousands of aboveground and underground storage tanks for over 25 years. If your tank has leaked, Firstech has environmental consultants that will be responsive in obtaining a No Further Action (NFA) letter from the NJDEP for formal case closure. We are New Jersey's oil tank closure experts.
Firstech Environmental provides environmental consulting services throughout New Jersey to evaluate environmental insurance claims, leaking and non-leaking underground storage tanks and buildable wetlands and Pinelands areas. We also perform Phase I & II investigations for residential, commercial, and industrial clients. 
State Programs & Licenses Pre-Qualified for NJDEP UHOT Program
Our team includes personnel who are pre-qualified for the NJDEP's UHOT (Unregulated Heating Oil Tank) program. These experts are ready to investigate and remediate oil tanks in situations that require only limited oversight by the New Jersey Department of Environmental Protection (NJDEP). We can advise you on oil tank decommissioning options based on your specific environmental conditions, and can guide you through the UHOT program, as needed, to receive your NFA (No Further Action) letter should your tank have leaked.
New Jersey LSRP Remediation Contractors 
Firstech has access to some of the most experienced and respected LSRPs in New Jersey. These LSRPs (licensed site remediation professionals) will advise you on the best way to achieve regulatory compliance and will create a customized oil tank closure or site remediation strategy to obtain a RAO (Response Action Outcome) letter in the right manner for your specific needs. Firstech also provides excavation, structural support installation, and other remediation contracting services to help you meet NJDEP regulations and regulatory timeframes.
Environmental Consulting Services for New Jersey Since 1996
If you need environmental consulting or remediation services anywhere in New Jersey, look no further than Firstech Environmental. We have been providing responsive and effective solutions for more than 25 years. Request a quote or contact us at 800-997-2820 to get started on your project.
"Firstech was an absolute delight to deal with and they managed a difficult environmental oversight situation with patience, confidence and professionalism that was truly unusual. I was confident they were the right choice to monitor the removal performed by the seller of the property. Using their info, I was able to have my attorney try his best to negotiate sampling and other facets of the removal process. They also sent pictures and kept me up to speed as the remove progressed. Thank you for making a stress-inducing situation run smoothly and being there during the most difficult phase of homebuying. Firstech is 11 on a scale of one to ten!"

–  M.M. from Wallington, NJ, 4/22/22
"After choosing a company to remove my tank because it was cheaper I realized I made a HUGE mistake. That company tried to pull a quick remediation job on me... Before I hired Firstech, Sid spent TWO HOURS with me listening to my situation and giving me advice. His honesty and professionalism is unparalleled... Jason, Mindy and Sid were extremely helpful in getting an NFA letter. I HIGHLY RECOMMEND FIRSTECH for all of your oil tank needs!"


– B.R. from Red Bank, NJ, 1/12/21
"Firstech of Farmingdale is among the finest service providers we have ever used. We had a very difficult and worrisome oil spill contamination problem but their team guided us every inch of the way. From tank removal, to the initial assessment, to remediation options, to soil removal and replacement, to applying to the State for funding. From the field people to the office staff, this is a well-coordinated All-Star team...I could not recommend anyone more highly."


– C.G. from Farmingdale, NJ, 4/18/18
Firstech Environmental has an experienced, dedicated staff that has been providing safe, responsive, and cost-effective environmental services since 1996. We provide environmental consulting and remediation services for the entire state of New Jersey and our service area includes the following counties: