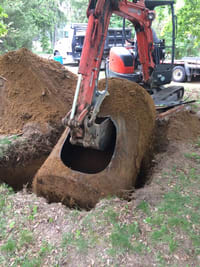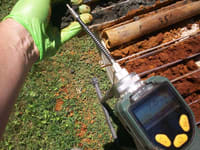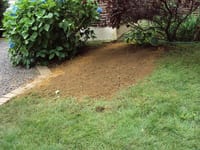 Underground oil tanks can pose a serious risk to your property. If left unchecked, abandoned underground oil tanks can leak causing costly environmental damages. Within the state of New Jersey, providing proper residential oil tank removal and disposal is a key element in protecting personal property and the environment.
As experts in oil tank removal throughout the state of New Jersey, Firstech Environmental can provide "turn-key" removal and inspection services of active or previously abandoned underground fuel oil storage tanks that are located on your property. Upon completion of your project, we will provide you with the documentation necessary to formally close your required municipal tank removal permit.
Request a free oil tank removal estimate or contact us to discuss oil tank solutions for your property. 
Expert Oil Tank Removal Services Throughout New Jersey
At Firstech Environmental, our oil tank removal services are designed to clear your property of oil tanks that may be a hazard to your property. The only 100% effective solution to determine the integrity of an underground oil storage tank is complete oil tank removal. With the potentially high cost of contaminated soil and groundwater cleanup, it is extremely important to remove any oil tank within your property as quickly as possible.
We utilize careful planning and thorough evaluations of site-specific circumstances to ensure that our oil tank solutions are carried out as unobtrusively as possible. Our customer service personnel will be there to assist you through every step of the oil tank removal process and to obtain the required permits for your municipality. We also have a frequently asked questions page for any general questions you may have. 
NJDEP Certified Contractors for UHOT (Unregulated Heating Oil Tank) Inspection Services 
Firstech Environmental has NJDEP UHOT (Unregulated Heating Oil Tank) Program certified environmental personnel on staff to investigate and remediate certain low risk unregulated heating oil tanks with limited NJDEP oversight. Contact us today for more information on our UHOT low risk options. 
New Jersey Soil, Groundwater Testing & Remediation
Firstech Environmental utilizes industry standard and NJDEP approved groundwater and soil testing equipment and methodologies to determine if any potential leakage or contamination has occurred at your property. Through direct evaluation and analysis of your samples we can determine the area of NJDEP required site remediation in order to provide you with a recommendation for soil and groundwater remediation for your property. 
New Jersey Mobile Groundwater Treatment System
Firstech Environmental's mobile groundwater treatment systems greatly reduce impacted groundwater disposal costs during site remediation. Our systems are approved and permitted by the New Jersey Department of Environmental Protection (NJDEP) to treat hydrocarbon-impacted groundwater on-site during the completion of remediation projects. 
New Jersey Oil Tank Sweep Services
To find underground tanks, many prospective homebuyers will have an oil tank sweep performed during the home inspection period, prior to purchase. Having an oil tank scan performed on a property can help to eliminate any question marks and can save buyers from liability concerns in the future. Firstech is New Jersey's #1 provider of underground oil tank scan services. We are the proven experts, with over 900 independent third-party verified customer reviews and a 5-star customer satisfaction ranking and decades of success.
NJ Oil Tank Cleanup
Firstech Environmental has been a leader in oil tank cleanup in New Jersey for over 23 years. We offer complete soil and groundwater cleanup capabilities, from oil tank location and tank removal in NJ to full site remediation. No matter how large or small your oil tank cleanup project may be, Firstech are the site remediation contractors you need for environmentally friendly, green cleanup.
New Jersey Oil Tank Removal Process
As a New Jersey based company, Firstech Environmental is an NJDEP certified contractor that has the capabilities to provide premium, start-to-finish oil tank solutions for your tank disposal needs. From filing the initial municipal tank removal permit applications to completing the final paperwork, we handle every step of the tank removal process. 
Underground UST Services New Jersey Certifications 
As a fully insured and NJDEP certified contractor, Firstech can legally and safely remove your underground oil tank under applicable municipal and State requirements. At Firstech Environmental, our knowledgeable experts are trained to properly and safely locate, remove and dispose of any oil tank on your property. Our New Jersey oil tank and soil/groundwater investigation and remediation certifications include: 
NJDEP UST Certified Contractors for Oil Tank Closures
Improperly closed or non-permitted tank removals can result in difficulties when selling your property. Firstech offers the best value for your tank closure needs. We provide free estimates for oil tank solutions—click here to request a quote, call 800-997-2820 to schedule an onsite visit, or contact us for more information.
New Jersey Oil Tank Inspection for Leaking Oil Tanks & Soil/Groundwater Contamination 
Should you experience a worst-case scenario where your oil tank has leaked, Firstech will discuss all your options with you and help you determine the best, most cost-effective oil tank solutions for closing your case with the NJDEP, including potential insurance coverage and/or NJUST fund grant money for your cleanup costs. We provide complete solutions for leaking oil tanks and soil contamination.
Contact Firstech Environmental for Underground Oil tank services New Jersey (NJ) Today
For over 25 years, Firstech has been New Jersey's leading provider of oil tank removal and environmental remediation solutions. Request a quote on your oil tank removal project, or contact us for more information.